Wales High School Uniform
Wales High School is tremendously proud of its tradition of having the highest standards of presentation for all students and their uniforms. Our policy is based on the notion that a school uniform:
Helps to promote positive attitudes and high standards
Makes children feel equal to their peers in terms of appearance
Gives pupils an identity and promotes sense of pride in the school
Encourages every child to take pride in their appearance
Practical and smart
Makes WHS students easily identifiable
You can find information and diagrams below showing examples of acceptable school uniform. If you should require any more information or have any questions please do not hesitate to contact us.
Our uniform is not seasonal and should be worn all year. Please note that some adaptations will be made at the discretion of the Headteacher in particularly warm weather.
Wales High School uniform and PE Kits can be purchased from the following suppliers.  Please note, for convenience WHS students can still purchase School Ties from Student Reception:
Johnny D Schoolwear
All Uniform items/PE Kit stocked:
33 Howard Street, Rotherham. S65 1JQ
Tel: 01709 370032
Website: https://johnnyd.co.uk/
Pinders Schoolwear
All Uniform items/PE Kit stocked at 3 locations:
Mansfield Road, Aston, Sheffield, S26 2BS
Crystal Peaks Market, Crystal Peaks, Sheffield
The Bus Station, College Walk, Rotherham.
Tel: 0114 2513275/01709 720043
Web link:  https://pindersschoolwear.com/
Parents may decide to buy a blazer from any supplier. Parents/ Carers can purchase a badge from school or use the services of Tracie B Personalised Embroidery who will embroider the school badge onto a blazer of your choice:
Tracie B Personalised Embroidery
15 Sheffield Road, South Anston, S25 5DT
Tel: 01909 807055/ 07969080056
For some time, many well-known and reputable shoe shops have sold soft leather, trainer style footwear that they will advertise as 'school shoes' These same examples of footwear are also sold in sports shops and are advertised as suitable for wearing when taking part in sport.
As a result of such branding and advertising it is understandable how some families have assumed that such shoes are suitable for Wales High school uniform. Please take a look below at some examples of suitable and not suitable School shoes.
Plain black school trousers should be in a traditional style and not tight fitting. The bottom of the trouser should sit on the shoes and not cling to the leg. Lycra, stretchy material, or skinny style trousers are not acceptable.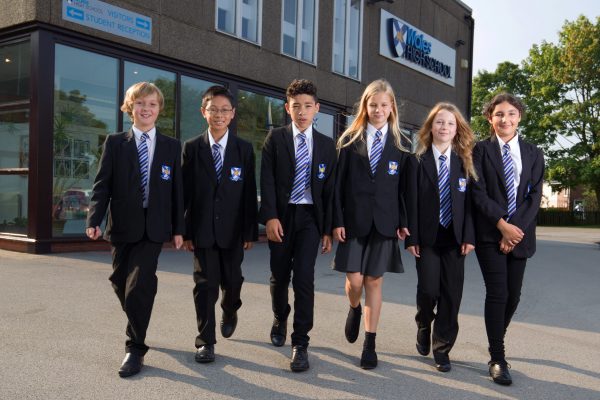 Wales High School expects all students to wear the correct uniform at all times. 
The school reserves the right to challenge inappropriate uniform items that undermine the school's high standards and the learning environment. 
Correct uniform must be worn at ALL TIMES
Coats are only allowed outside the school building and must be worn over blazers. Coats worn inside the school building will be confiscated
Hoodies and jumpers are not permitted in school and will be confiscated
Jewellery and facial piercings are not allowed in school – only plain studs are permitted
Mobile phones will be confiscated if seen during a lesson
All students should have a bag